OK_2 Opening Keynote 2: The Cyber-Physical Metaverse – Where Digital Twins and Humans Come Together
Dirk Elias, Robert Bosch GmbH, Germany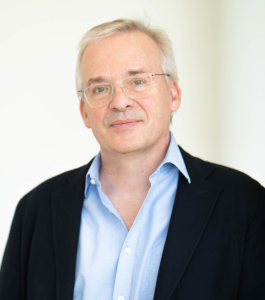 Abstract
The concept of Digital Twins (DTs) has been discussed intensively for the past couple of years. Today we have instances of digital twins that range from static descriptions of manufacturing data and material properties to live interfaces to operational data of cyber physical systems and the functions and services they provide.
Currently, there are no standardized interfaces to aggregate atomic DTs (e.g., the twin of the lowest-level function of a machine) to higher-level DTs providing more complex services in the virtual world. Additionally, there is no existing infrastructure to reliably link the DTs in the virtual world to the integrated CPSs in the real world (like a car consisting of many ECUs with even more functions).
This keynote will address how the Metaverse can become the virtual world where DTs of humans and machines live and how to reliably connect DTs to the physical world. Insights in current activities of Bosch Research and its academic partners to move towards this vision will be provided.
Bio
Prof. Dr.-Ing. Dirk Christian Elias is currently Senior Vice President at Robert Bosch GmbH and heading the Corporate Research Division 'Advanced Digital' (CR/AD). The division is focusing its applied research on ICT, SW development and systems engineering and simulation. He also is responsible for the Bosch Research and Technology Center in India.
After studying EE at TU Munich he started his career at Fraunhofer Fokus in 1992. In 1996 he received his PhD from TU Berlin. In 2000 he left Fraunhofer and started IVISTAR AG. IVISTAR focused on IoT products for the organization of open offices and provided later also development services for smart home products. In 2008 he left Berlin and started setting up the Fraunhofer Portugal Research Center AICOS and joined the Faculty of Engineering of the University of Porto (FEUP) as invited full professor.